Buy A Piece of CTA and Have A Seat!
Our Have a Seat! Campaign provides the chance to honor a loved one by placing their name on one of our new seats in the Children's Theatre of Annapolis. A plaque will be placed prominently on the seat commemorating yourself or a loved one. It is also an excellent way to promote your business and makes the perfect gift for someone who has a passion for the arts and our community. All seats are $200 and with a purchase of an entire row you get one seat for free! Purchasing an entire shorter side row, get 50% off one seat in the row! Become an integral part of CTA! Any questions? Contact aprilforrer@childrenstheatreofannapolis.org.
So far we have raised $16,000 towards our $55,000 target! That's 30% of the total!
CTA's Commitment to
Diversity, Equity, Inclusion and Accessibility
Children are at the center of everything we do at Children's Theatre of Annapolis (CTA). This means CTA continually celebrates a diverse community of people and welcome all races, ethnicities, religions, genders, gender identities or expressions, sexual orientations, disabilities, ages, and veterans.
CTA and its Diversity and Inclusion Committee strive for inclusive casts, audiences, staff, Board members, volunteers, educational workshops and classes and teaching artists. CTA cherishes these differences and we realize that we flourish because of these individual perspectives and voices.
CTA's Board of Directors and staff are dedicated to creating a culturally relevant, diverse and inclusive theatre experience, recognizing and valuing diversity in all forms: ethnicity, family structure, gender identity, national origin, race, religion, spirituality, sexual orientation, socioeconomic background, disabilities or veteran status.
CTA believes in promoting inclusivity and diversity in our workshops, teaching staff and productions, which reflects the increasing multicultural and global society in which we live. We are committed to attracting and sustaining Board members who support and affirm these values.
CTA will promote diversity and inclusion because these values reflect a basic human right to justice and equality of opportunity for all, as well as create a safe space for the creative expression for all children.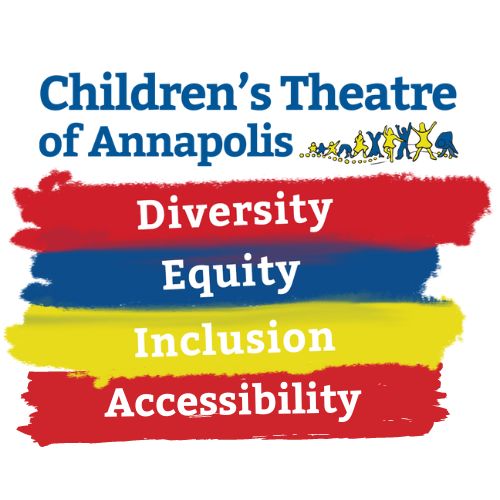 Donate
Purchasing a ticket to an CTA production or paying tuition for a class only covers a portion of our yearly budget. Donations allow us to continue producing high-quality programming for all children in the Central Maryland community.
CTA is Generously Sponsored in Part by