Musical Theatre Audition Intensive Workshop
November 21, 2022 @ 9:00 am

-

November 23, 2022 @ 4:00 pm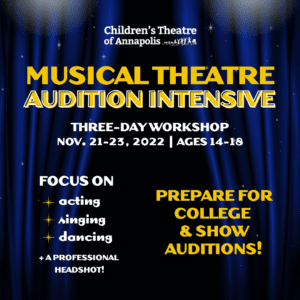 This musical theatre audition intensive workshop is for intermediate-advanced level students ages 14-18. Over the course of three days, our teaching artists will lead students through the complete audition process. Students will gain the experience and insight into preparing for an audition plus what artistic teams are looking for during auditions for shows & colleges. Each student will receive coaching in a group setting in acting, singing, and dancing. In addition, students will have a photo session with a professional photographer & receive a digital headshot (excellent for shows and college auditions.) The workshop concludes with a mock audition with feedback. This workshop is limited to 15 total students.
Day One: November 21
PART ONE: DISCUSSION. Talk through the importance of education, preparation for an audition, the audition process (from the moment you apply to the moment you walk out of the audition), and more.
PART TWO: ACTING. Prepare two 60-90 second contrasting monologues (one of which must be comedic) from published plays dated in the 20th century-present.
Day Two: November 22
Students will be split into two groups for voice and dance and rotate between classes.
VOICE. Students should prepare 2 contrasting pieces from a published musical theatre production. One song must be a ballad and the other an uptempo. Selections must bee 16-32 bars in length. Students must sing to musical accompaniment. Bring sheet music (live piano accompaniment provided) or pre-recorded accompaniment. No "a cappella" singing allowed.
DANCE. The teaching artist will teach a musical theatre style combination in a group setting. Come prepared to dance. Dress appropriately including shoes (dance shoes preferred).
Day Three: November 23
PART ONE: HEADSHOTS. Students will work with a professional photographer with brief coaching about posing, etc. They will receive a digital headshot with their name on it via email (excellent for shows + college auditions.) This is a $250+ value.
PART TWO: MOCK AUDITION. Students will go through the full process of an actual audition (slating, performing a monologue, singing one song selection, and being put through a dance combination.) This will be followed by feedback from the artistic panel.
Additional Details
Lunch & Snacks: Students must bring a healthy lunch, two healthy snacks, and a water bottle with your child's name on it.
Appearance: Students must dress appropriately for movement. Shoes should be either dance shoes or sneakers secured with laces or velcro. No open-toe shoes, flip-flops, sandals, or crocs. Hair must be pulled back and away from the face.
Ages: 14-18 (Level: Intermediate-Advanced)
Time & Date: 9 a.m.-4 p.m. Monday, November 21, to Wednesday, November 23, 2022
Tuition: $350 (with current annual registration)
Teaching Artists
Atticus Cooper Boidy (Acting)
Marie Harrison (Voice)
Brandon Glass (Dance)
Wendy Hickok Photography (Headshots)
Related Events