Gran's Guide to Stop an Ogre (Also Works for Witches and Bullies)—Tuesday Classes
March 7 @ 4:30 pm

-

6:30 pm
Theatre Production Workshop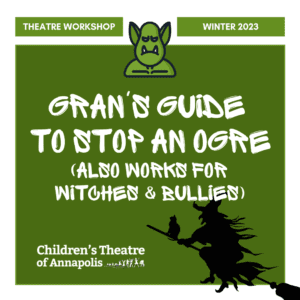 Zach and Lilly arrive home from school upset about the troubles from their day—Zach's friend is getting pushed around, Lilly is being left out by the "mean girls" who rule the school, and both of them are worried about being called tattle-tales. Granny tells them a seemingly unrelated whimsical, magical story… but it might just help them overcome the bullies they face at school. In Granny's helpful story, Jack and Jill stand up to a mean and tough ogre and a wicked witch with the help of a wide variety of helpful fairytale friends. By Stephanie Demaree.
Through theatre production workshops students gain experience and knowledge in acting techniques, improvisation, characterization, movement, props, scenery and much more. These workshops conclude with a final performance on our main stage. In production workshops, teamwork is a major focus and all participants are guaranteed a role. We encourage students with all levels of experience to attend.
NOTE: Theatre Production Workshop show titles are subject to change due to cast size and requirements.

Ages: 7-18
Time & Date: 4:30-6:30 p.m. Tuesdays, March 7-May 16, 2023 (No class on April 4, 2023)
Performances: 6:30 p.m. Tuesday, May 16, 2023
Tuition: $195 (with current annual registration)*
Artistic Staff
Tiffany Shannon Productions
Related Events