The story of an extraordinary girl who dares to take a stand and change her own destiny plays from October 21 to November 6, 2022, at Children's Theatre of Annapolis​
ANNAPOLIS, Md.—A classic children's novel comes to life on stage as Children's Theatre of Annapolis mounts a production of Roald Dahl's Matilda the Musical, running from October 21 to November 6, 2022.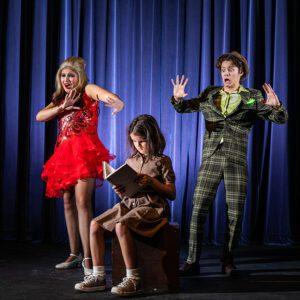 Inspired by the twisted genius of Roald Dahl, the Tony Award-winning musical revels in the anarchy of childhood, the power of imagination and the inspiring story of a girl who dreams of a better life. Packed with high-energy dance numbers and catchy songs, Matilda is a joyous girl power romp. Children and adults alike will be thrilled and delighted by the story of the special little girl with an extraordinary imagination.
Matilda features 26 local performers aged 9 to 17 years old. Harper Wright, 10, of Millersville, stars as the titular character, while Mia Rinehart, 16, and Finn Hintermister, 16, both of Annapolis, play the roles of Mrs. and Mr. Wormwood, respectively, Matilda's parents. Additionally, both in their CTA debuts, Anna Porter, 16, of Crofton, performs as Miss Honey and Matthew Earle, 17, of Edgewater, plays the role of Trunchbull.
"Matilda the Musical, the first production of our 2022-2023 'Season of Stories,' brings some of children's literature's most beloved characters to life," said Kelsey Casselbury, CTA publicity chair. "It's a story that audiences of all ages will enjoy, as well as a perfect introduction to live theatre for children."
The show is directed by Atticus Cooper Boidy, who last helmed CTA's "Annie" in May 2022. He is joined by veteran musical director Emily L. Sergo and new-to-CTA choreographer Brandon Glass.
Roald Dahl's
Matilda the Musical 
opens on Friday, October 21, 2022, at CTA's theatre, located at 1661 Bay Head Road, Annapolis. Performances will take place at 7 p.m. Fridays, 11 a.m. and 4 p.m. Saturdays, and 2 p.m. Sundays through November 6, 2022. Tickets are $18 for adults and $15 for students age 12 and under, seniors and military. Group discounts and season subscriptions are available. Purchase tickets at
cta.ticketleap.com
.
To arrange interviews with the cast or artistic staff, contact Kelsey Casselbury at
publicity@childrenstheatreofannapolis.org
. If you are interested in reviewing the production, please contact us for up to two complimentary tickets.
Children's Theatre of Annapolis (CTA) was established in 1959 and has grown to become a premiere theatre program in central Maryland. The 501(c)3 nonprofit organization mounts three mainstage productions each year and offers a variety of theatre arts education programming. For more information, visit
www.childrenstheatreofannapolis.org
.