The hysterical musical, revolving around the creepiest and kookiest of families, runs from November 5-21, 2021, at Children's Theatre of Annapolis
ANNAPOLIS, Md.—America's favorite creepy, kooky, mysterious and spooky family is back, appearing on the stage at Children's Theatre of Annapolis in
The Addams Family
, a musical comedy, running from November 5-21, 2021.
A comical feast that embraces the wackiness in every family,
The Addams Family
features an original story—and it's every father's nightmare: Wednesday Addams, the ultimate princess of darkness, has grown up and fallen in love with a sweet, smart young man from a respectable family. If that wasn't upsetting enough, Wednesday confides in her father and begs him not to tell her mother. Now, Gomez Addams must do something he's never done before: keep a secret from his beloved wife, Morticia. Everything will change for the whole family on the fateful night they host a dinner for Wednesday's "normal" boyfriend and his parents.
*Please note that there will be strobe lights used during this production. The script also includes mild language that may not be appropriate for all ages.*
CTA's production features 22 young performers from across the region. Leading the cast are Liam O'Toole, a 17-year-old senior at Annapolis High School, as Gomez Addams and Erica Yamaner, a 16-year-old junior at Annapolis High School, as Morticia Addams. The family is rounded out by Rosalie Hess, a junior at Archbishop Spalding High School, as Wednesday; homeschooled 15-year-old Teaghan McLaughlin as Pugsley; Layla Bunch, a 13-year-old eighth grader at Capitol High Montessori in Washington, D.C., as Grandma; and Finn Hintermister, a 15-year-old sophomore at Annapolis High School, as everyone's favorite crazy uncle, Fester.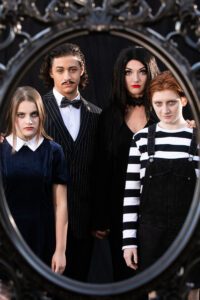 The Addams Family
is helmed by director Atticus Cooper Boidy, who last directed Chitty Chitty Bang Bang JR. at CTA. He's joined by choreographer Kristin Rigsby and music director/conductor Emily L. Sergo.
"The Addams Family is a classic family show that pushes the boundaries of what is 'normal,'" Boidy says. "Generations have grown up with this family, enjoying their dark humor, appreciation for both life and death and the focus on the importance of family."
The Addams Family
opens on Friday, November 5, 2021, at CTA's theatre, located at 1661 Bay Head Road, Annapolis. Performances will take place at 7 p.m. Fridays, 11 a.m. and 4 p.m. Saturdays and 2 p.m. Sundays through November 21, 2021. Tickets are $18 for adults and $15 for students age 12 and under, seniors and military. Group discounts are available. Purchase tickets at
http://cta.ticketleap.com.
Children's Theatre of Annapolis (CTA) was established in 1959 and has grown to become a premiere theatre program in central Maryland. The 501(c)3 nonprofit organization mounts three mainstage productions each year and offers a variety of theatre arts education programming. For more information, visit
www.childrenstheatreofannapolis.org
.